About St. Martin's Food Pantry
St. Martin's Food Pantry was founded in 2009 when we recognized tremendous need in our rural community following the economic downturn. We wanted to offer healthy food to anyone who was hungry. Every member contributed $10 monthly to buy food that was offered at a monthly indoor pantry. Over time, the pantry grew in the number of people served, with more volunteers and community support.
In 2020, the global pandemic forced us to adopt an outdoor, drive-through model, featuring canopies and stations where 25+ volunteers handed out food to clients. In September 2020, when wildfires devastated parts of the Rogue Valley, our neighbors' needs were greater than ever. With generous support through grants, community partners and even more volunteers, we offered more pantries, expanding from 12 total in 2019 to an average of 27/year in 2020-2022.
We believe passionately that there should be no barrier for anyone to access food. We ask clients only for a first name and number of children and adults being served. Our volunteers greet each person with warmth, dignity and respect. This is critical for any who may be ashamed to ask for this basic human need to be met.
Since March 2022, we have purchased more food in a time of ongoing inflation. Yet our neighbors' needs have not diminished. Many face multiple challenges. The unpredictability of these times creates anxiety for everyone, especially those who have limited incomes and access to fewer resources.  St. Martin Food Pantry could not help our neighbors in need at such a needed level without dedicated leaders and volunteers, amazing community support and generous grants. All grants and donations go toward the purchase of food, supplies and occasionally designated items that clients have identified as critical needs (toilet paper, hygiene items, etc).
St. Martin's has extensive and meaningful experience serving the hungry in the Upper Rogue for nearly 14 years. The church welcome sign at the corner of Hwy 62 and Cleveland Street says "St. Martin's welcomes you with open arms and loving hearts." Through St. Martin's Food Pantry, we seek to embody that message by making sure no one in the Upper Rogue goes hungry.
Practical details. On the last Friday of the month (except November and December — see last sentence), St. Martin's offers fresh produce, meat, dairy and other basic food items distributed per household unit on a first-come, first-served basis. In November and December, the large Food Pantry is on the Friday before Thanksgiving and Christmas, respectively. We also have been offering mini-pantries mid-month, on Fridays.  Please watch our Facebook page or look for the sign at the corner of Hwy 62 and Cleveland Streets.  We invite ANYONE who has need for food to drive through our parking lot on a first come, first served basis. When it is your turn, one volunteer will ask for your name and the number of adults and children in your family. At different stations, volunteers will place food in your vehicle (we observe all state, county and city safety protocols).
Volunteering.  If you would like to volunteer, please leave a message at the church office (541.878.2166). We can always use helping hands on the day of — setting up tables and canopies, carting food, and distributing food to clients that day.
Our next Food Pantry will be Friday, September 29th beginning at 10 or 11 AM (if it is hot, we begin at 10AM, and in cooler months, we begin at 11AM). For mini-Food Pantries that we hold mid-month, please see St. Martin's Facebook page and the sign at the corner.   
We thank the foundations and organizations whose generous grants have allowed us to sustain and expand this ministry through difficult times:
Robert and Frances Chaney Foundation (Grant)


Coquille Tribal Community Fund (Grant)


Cow Creek Umpqua Indian Foundation (Grant)


Jackson Care Connect (Sponsorship)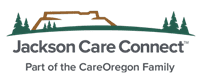 We also thank the following partners, without whom, we could not serve our community in this way:
Shady Cove Market
Bargains on the Rogue II
Upper Rogue Community Center
Gleaners of Southern Oregon
Franz Bakery
Mark's Episcopal Church
Jackson Care Connect
Boy Scouts of America, Troop #5, Medford
Cub Scouts and Brownies, Shady Cove
Shady Cove School
Finally, we thank our faithful and dedicated leaders and volunteers, who work day in and day out, through every season and all kinds of weather, to keep this ministry alive in our community. Each month, generous individuals donate food and financial gifts to St. Martin's. It means so much to us to be able to serve our neighbors in Shady Cove and the Upper Rogue!
No paperwork required – first come, first served
Location: 
St. Martin's Episcopal Church
95 Cleveland Street
Shady Cove, Oregon
For more information call 541-878-2166 (message)
Leave your name and number. We will return your call.
Email: stmshadycove@gmail.com
Non-perishable food donations gratefully accepted (in-date canned goods and packaged household items.) We are also grateful for any financial donations. They may be mailed to St. Martin's at P.O. Box 786, Shady Cove, OR 97539.